Penerapan Model Pembelajaran Role Playing Untuk Meningkatkan Hasil Dan Aktivitas Belajar Siswa Pada Mata Pelajaran PAI
Keywords:
Model Pembelajaran Role Playing, Hasil Belajar, Aktivitas Belajar
Abstract
Agar pembelajaran berhasil dilakukan maka seorang guru harus memiliki sikap inovatif dan kreatif untuk mencoba berbagai model yang dinilai cocok diterapkan dalam materi tertentu. Dalam Kompetensi Dasar Membiasakan perilaku terpuji Model pembelajaran Role Playing sungguh tepat untuk diterapkan. Model pembelajaran Role Playing pada dasarnya melibatkan peserta didik untuk memerankan tingkah laku manusia  dalam hubungannya dengan masalah sosial. Penelitian ini merupakan penelitian tindakan kelas yang dimaksudkan untuk meningkatkan hasil dan aktivitas belajar peserta didik. Penelitian dilakukan di SDN No. 124395  Pematangsiantar. Adapun hasil penelitian : 1) hasil belajar meningkat sebesar 5,28 dengan persentase peningkatan sebesar 6,91%, 2) aktivitas belajar meningkat dari 19,03 (76,11%) menjadi 21,08 (84,33%).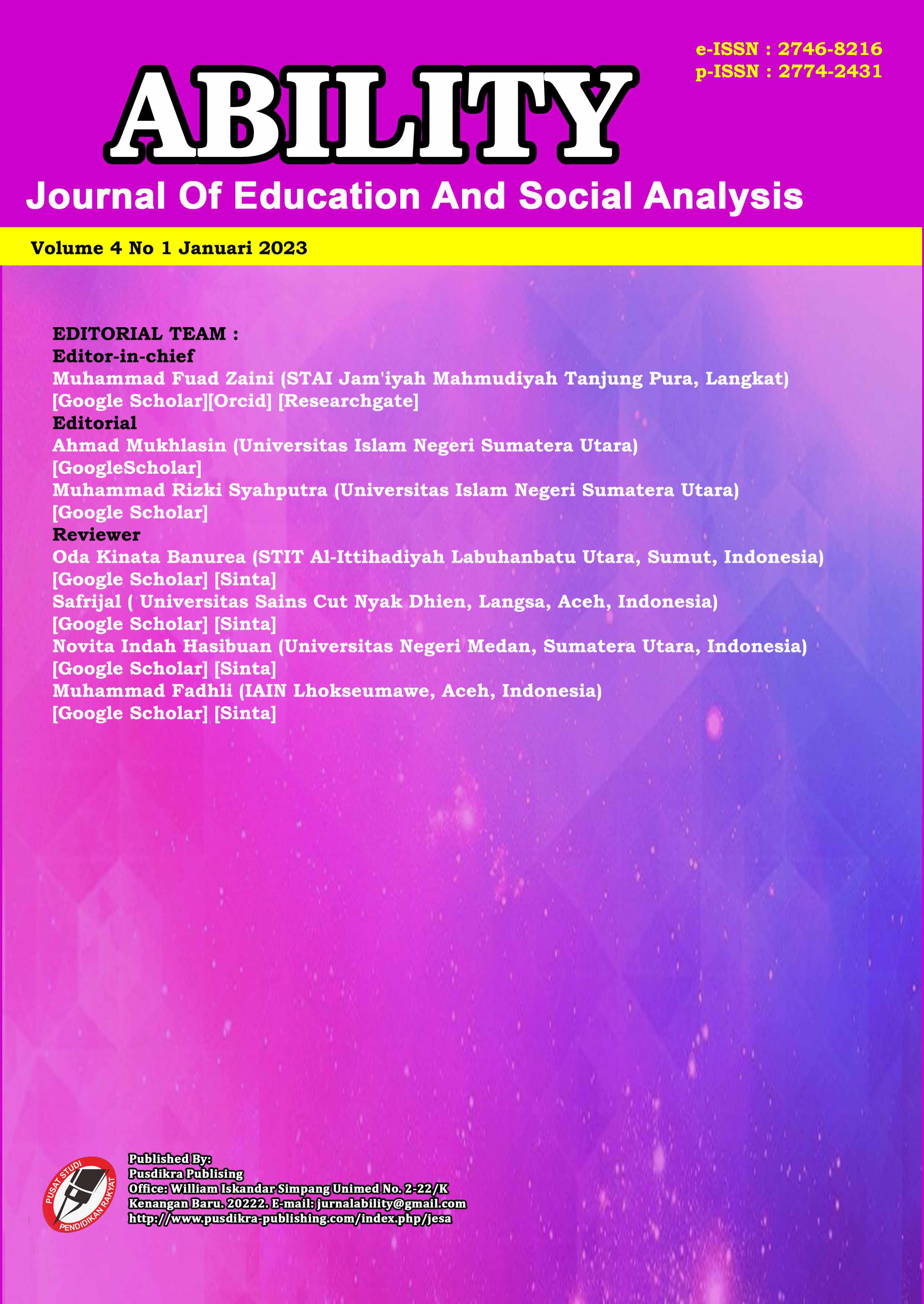 Downloads
License
Copyright (c) 2023 Ability: Journal of Education and Social Analysis
This work is licensed under a Creative Commons Attribution-ShareAlike 4.0 International License.