Kebijakan Kepala Madrasah Dalam Meningkatan Kompetensi Pedagogik Guru Madrasah Tsanawiyah Pondok Pesantren Modern Al-Habib Pangkalan Brandan
Keywords:
Policy, Head of Madrasah, Pedagogic Competence
Abstract
To find out the pedagogic competence of teachers of Madrasah Tsanawiyah Modern Al-Habib Islamic Boarding School Pangkalan Brandan To find out the policy of the madrasah head in improving the pedagogic competence of Madrasah Tsanawiyah teachers at Modern Islamic Boarding School Al-Habib Pangkalan Brandan To find out the obstacles faced by madrasa heads in improving teacher pedagogic competence at Madrasah Tsanawiyah Al-Habib Pangkalan Brandan Modern Islamic Boarding School. Field research was used to obtain the data needed in this study, namely by using data collection tools through observation, interviews or structured interviews, and documentation. The data obtained was then processed and analyzed. In this study, qualitative research was used with an analytical description approach, namely by describing the research results obtained through structured interviews on research sources. The results of the research on Implementation of the Madrasah Head's Policy in increasing teacher pedagogic competence carried out by the Madrasah head at the Al-Habib Islamic Boarding School Pangkalan Brandan by providing policies to teachers are included in an activity, training, workshops or workshops, training and seminar activities related to competency development teacher. Al-Habib Pangkalan Brandan Islamic Boarding School is one of the superior madrasas that produces the best graduates. that increase in success is mentioned, by cross-checking the teacher's basic abilities in carrying out daily tasks. Conducting internal workshops and training outside the madrasah (training) held at the training center which aims to improve teacher pedagogic competence. The madrasa head always provides motivation and guidance to teachers so that teachers are able to carry out their duties as well as possible and always provides training to teachers so that teachers are more professional in carrying out each job. Obstacles faced by the head of the madrasa at Al-Habib Islamic Boarding School Pangkalan Brandan in implementing policies to improve teacher pedagogic competence include: lack of workshops and training activities related to pedagogic competence, limited calling of participants, lack of teacher ability to carry out tasks properly, and effectively financially limited funds for internal madrasas make it impossible for all teachers in madrasas to implement it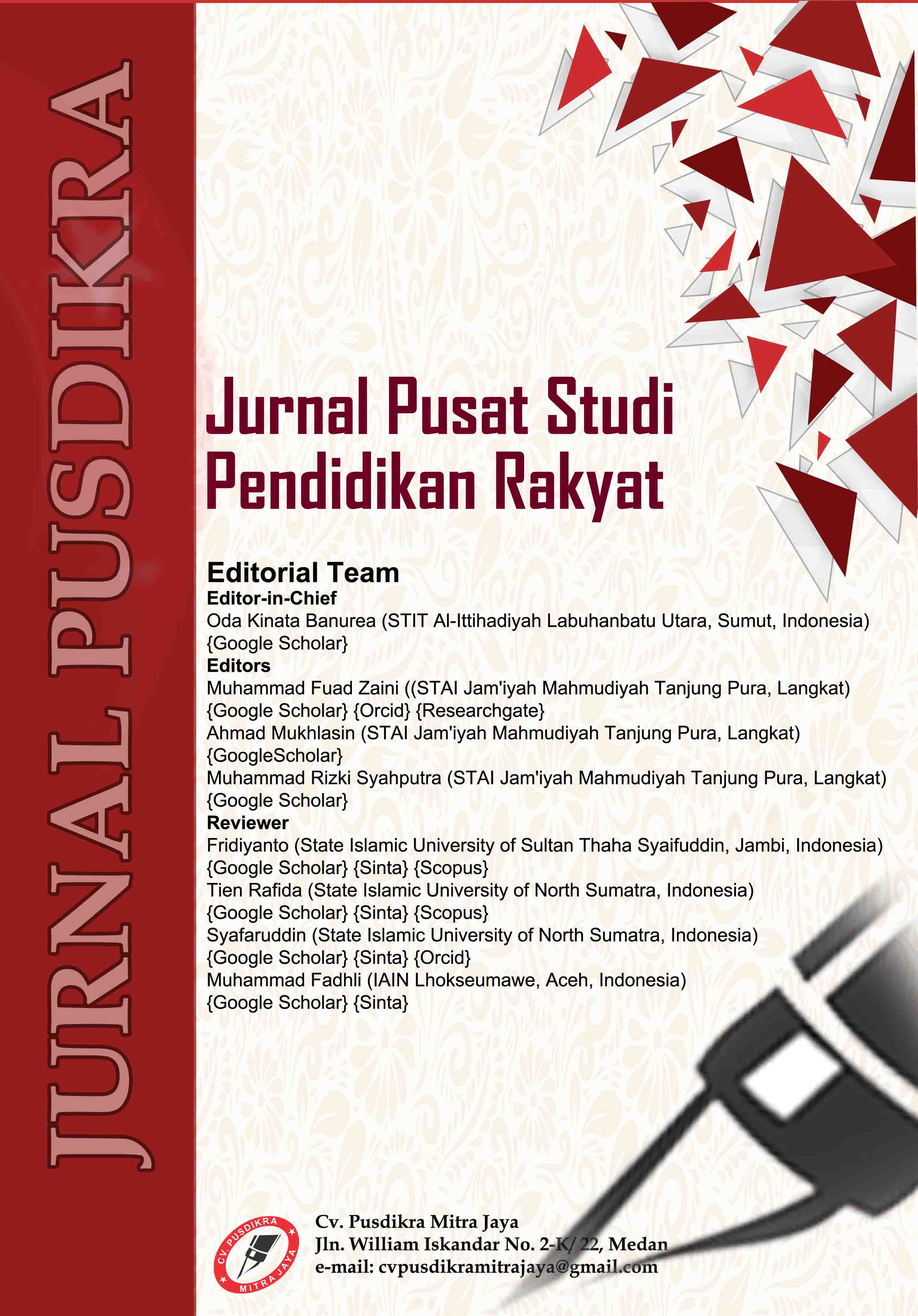 Downloads
License
Copyright (c) 2023 Jurnal Pusat Studi Pendidikan Rakyat
This work is licensed under a Creative Commons Attribution-ShareAlike 4.0 International License.